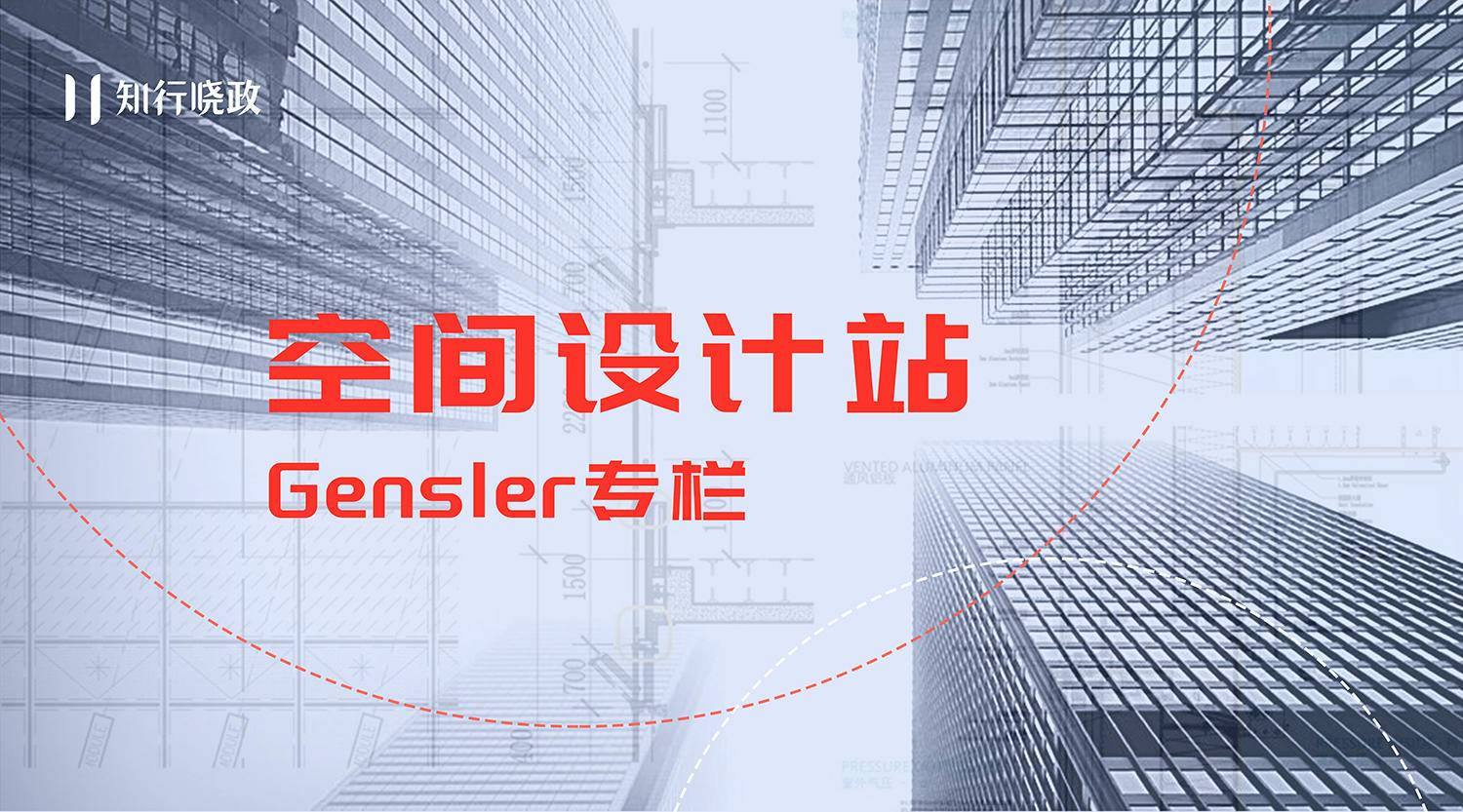 本文授权转载自公众号:Gensler
EARTH DAY 2020, GENSLER RELEASES IMPACT BY DESIGN REPORT PROVIDING STRATEGIES FOR CLIMATE RESILIENCE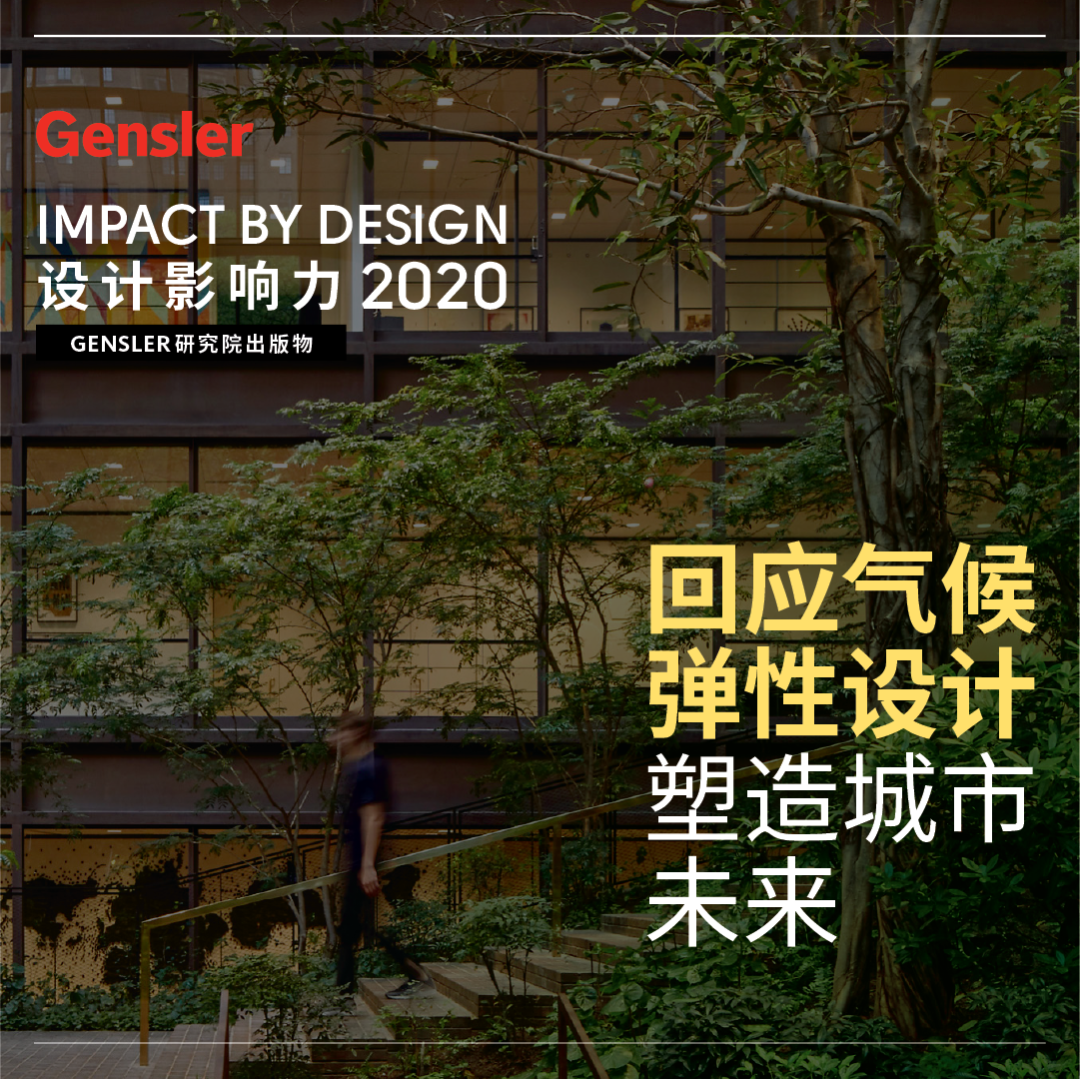 2020年

4

月

22
日将迎来第
50
个世界地球日,而今年全球大爆发的新冠疫情成为了除气候变化以外地球面临的另一大危机。世界显然没有做好应对新冠大爆发的准备,但是此次疫情也留给我们反思气候危机的机会,思考人、发展与自然之间的关系。
建筑环境对于应对气候危机以及实现全民健康都是至关重要的。在当前新冠疫情肆虐的情况下,气候变化仍然是一项迫切的挑战,它深刻影响着诸如生活质量、生物多样性、国家安全、经济发展,尤其是公共健康等方方面面。设计则可以帮助我们应对这些挑战,丰富人类体验、确保人民的健康和安全。
Addressing the climate crisis is more important than ever. On Earth Day 2020, Gensler is releasing the annual Impact by Design publication at a time when the world is facing unprecedented public health crisis. In fact, an unintended consequence of the work-from-home imperative has been a measurable improvement in air quality in many cities—in just six weeks. This renews our understanding that we can make a difference through our choices and decisions— once we resolve to make it happen. But like the health crisis, in the absence of fundamental longstanding changes, the climate crisis will imperil our future well-being if we resume business as usual without addressing the essential changes that need to be made.
Climate change continues to be an urgent challenge, affecting everything from quality of life, biodiversity, the community, the economy and to public health. Design can help to tackle these challenges—and enrich the human experience, promote well-being, and ensure safety.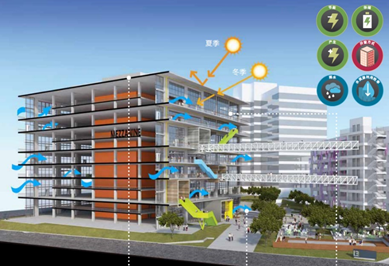 "万物各得其和以生,各得其养以成。
"
中华文明历来强调天人合一、尊重自然。习近平在气候变化巴黎大会开幕式上郑重的向世界做出承诺:将于
2030
年左右使二氧化碳排放达到峰值并争取尽早实现。绿色建筑也是
"
十三五
"
规划的重要内容。我们可以欣喜的看到中国做出的努力以及取得的成就。在过去几年,中国绿色建筑在中国迅猛发展,中国已经是除美国之外的
LEED
(能源与环境设计先锋)
建筑认证第一大市场,每年的
LEED
认证建筑超过
1000
座。
CHINA'S RESPONSE TO THE CLIMATE CRISIS HAS SHOWN GREAT DETERMINATION AND ACTION
"All things live in harmony and grow with nourishments." Chinese culture values harmony between man and nature and respects nature. At the opening ceremony of the 2015 Paris Climate Conference, Xi Jinping announced that China pledges to peak CO2 emissions by around 2030, reducing CO2 per unit of GDP by 60-65% over the 2005 level. Going forward, ecological endeavors will feature prominently in China's 13th Five-Year Plan. China will work hard to implement the vision of innovative, coordinated, green, open and inclusive development. In the last five years few years, China's efforts and achievements are evident. China's green buildings have developed rapidly in China, which is already the largest market for LEED building certification outside the United States, with more than 1,000 LEED certified buildings per year.
仅在

2019

年,

Gensler

完成了全球

7,000

多个项目,总面积超过

1

亿平方米,是全球排名第一大的建筑设计公司。

Gensler

选在

4.22

地球日这一天全球发布《设计影响力》报告,旨在通过位于全球

50

个办公室的

6000

多位设计师的共同努力,通过设计的力量,积极应对气候危机
Gensler
始终遵循弹性设计策略,为适应不断变化的世界。《设计影响力》报告中将重点阐述回应气候的弹性设计的五项策略:再利用现有建筑、空间以及材料;通过设计规模、朝向、体量、开窗方式等优化建筑性能;使用可回收或低碳材料降低产品生产及运输中产生的能源消耗;优化建筑物中的水处理以及水排放措施;充分利用可再生能源降低建筑物的能源消耗。以上这些战略可归为两大框架:减少石化燃料的消耗,以及重新审视已建成环境。
STRATEGIES FOR CLIMATE RESILIENCE
Gensler has always supported design strategies to adapt to a changing world. The Impact by Design report highlights five strategies for climate-responsive, promoting climate resilience, which falls into two categories: (1) reducing consumption of fossil fuels and (2) rethinking the built environment to live gracefully with climate change. They are:

REUSE
与建造新建筑相比,延长现有建筑的使用寿命可以显著减少隐含碳排放。
Extending the life of existing structures can significantly reduce embodied carbon, compared to new construction.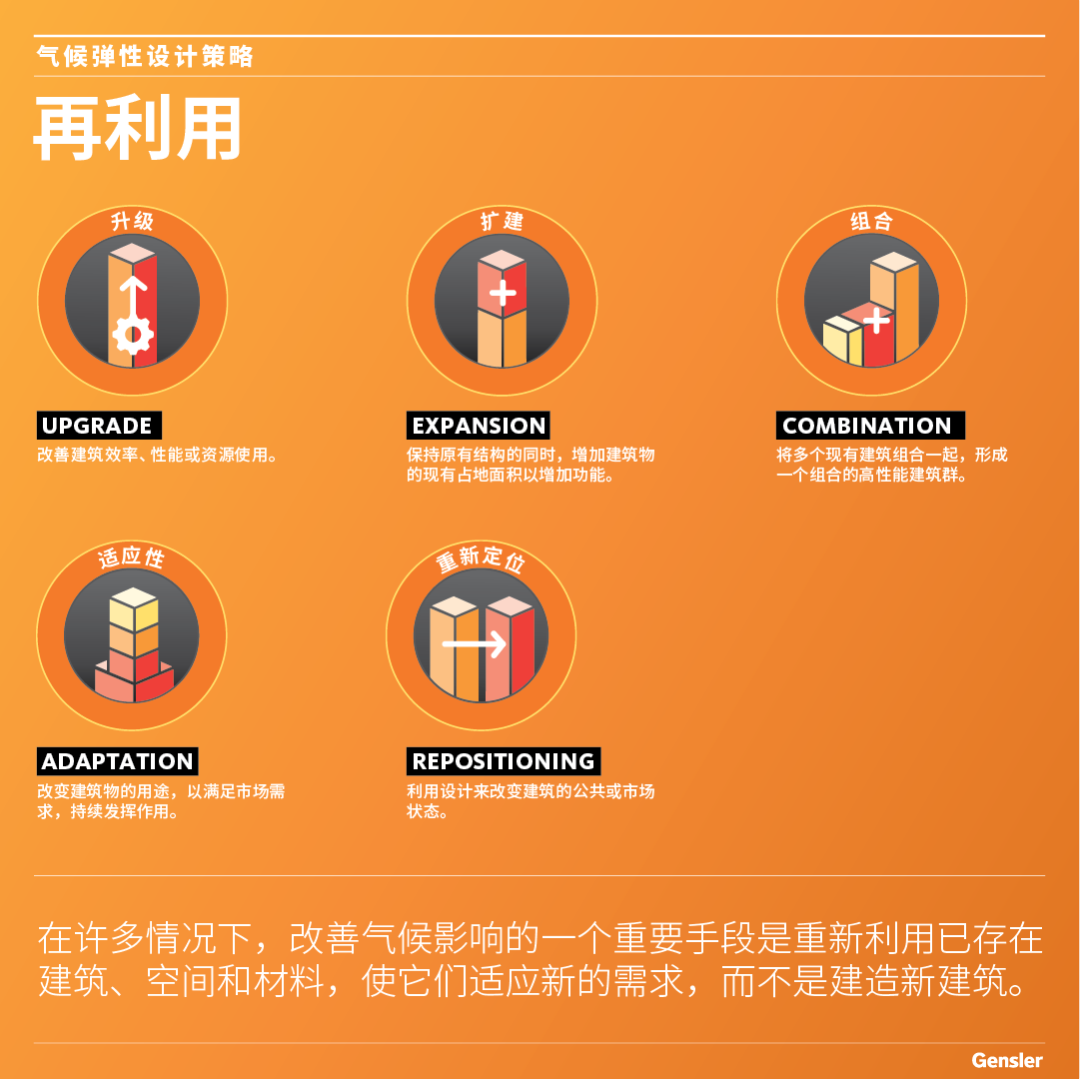 In many cases, the single greatest decision to improve climate impact is to reuse buildings, spaces, and materials that already exist—adapting them to meet new needs instead of building new.


SIZE & SHAPE
优化建筑的物理形态是减少隐性运营能耗最佳手段之一。
Optimizing the physical form of a building is one of the greatest opportunities to minimize embodied and operating energy.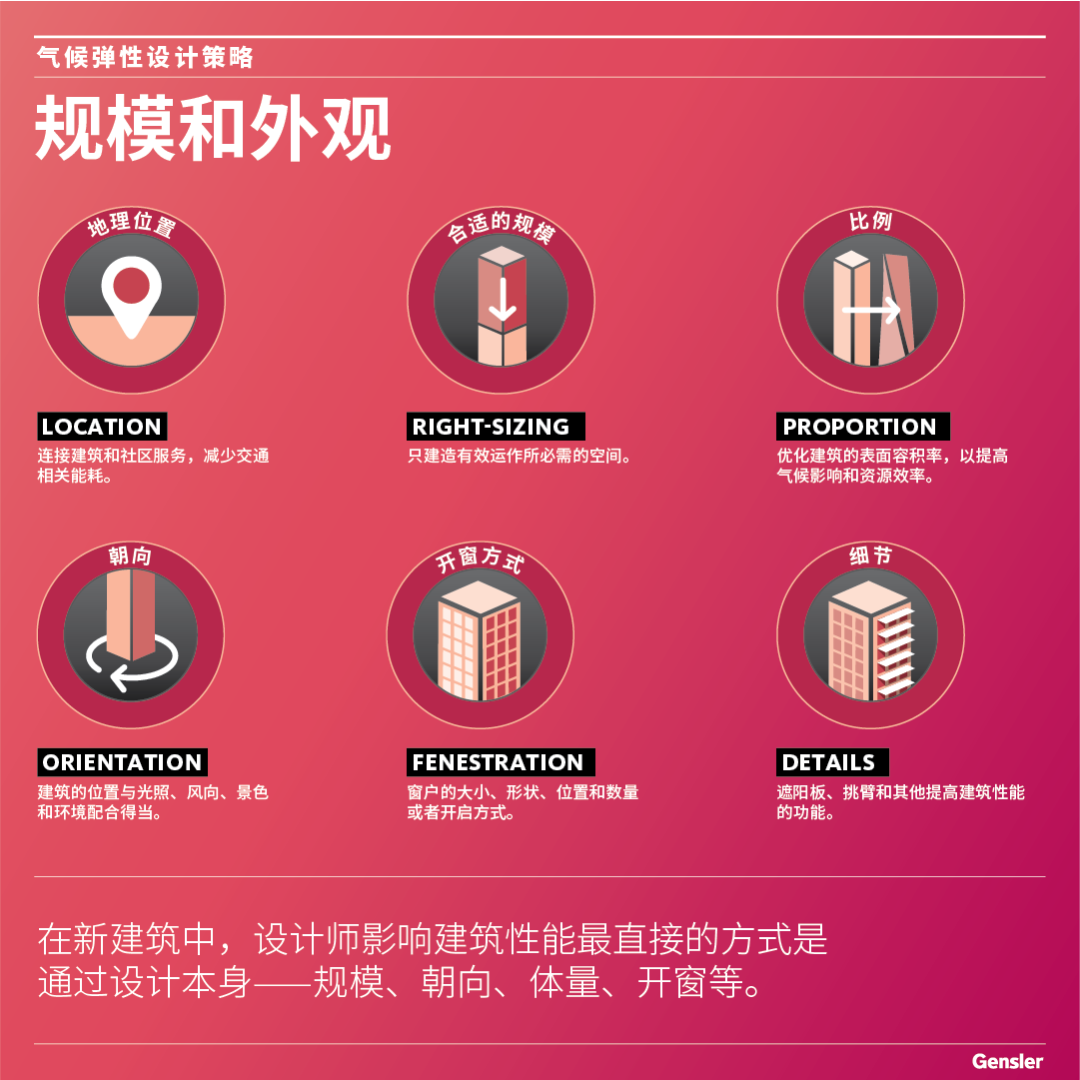 In new construction, the most direct way designers can affect performance is through design itself—size, orientation, massing, fenestration, etc.


MATERIALS

使用低碳材料和产品可以显著 降低建筑的总体隐含碳排放。
Using low-carbon materials and products significantly reduces a building's overall embodied carbon.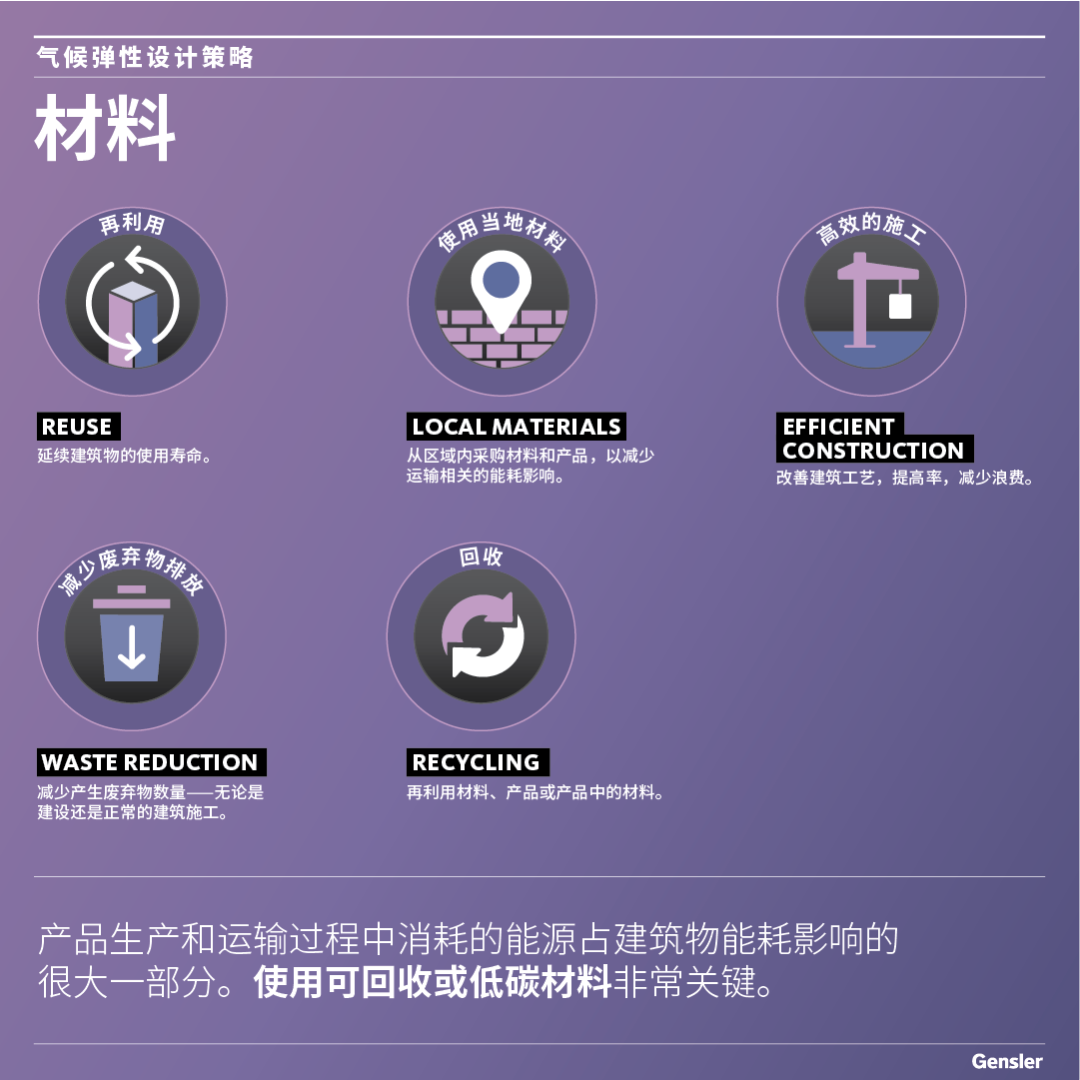 The energy expended during the production and transportation of products accounts for a significant portion of a building's impact. Using recycled or low-carbon materials is essential.
从节约用水到海平面上升的设计,合理用水对于减缓和适应气候变化的影响至关重要。
Managing water is crucial to mitigating and adapting to the effects of climate change - from minimizing water use to designing for sea level rise.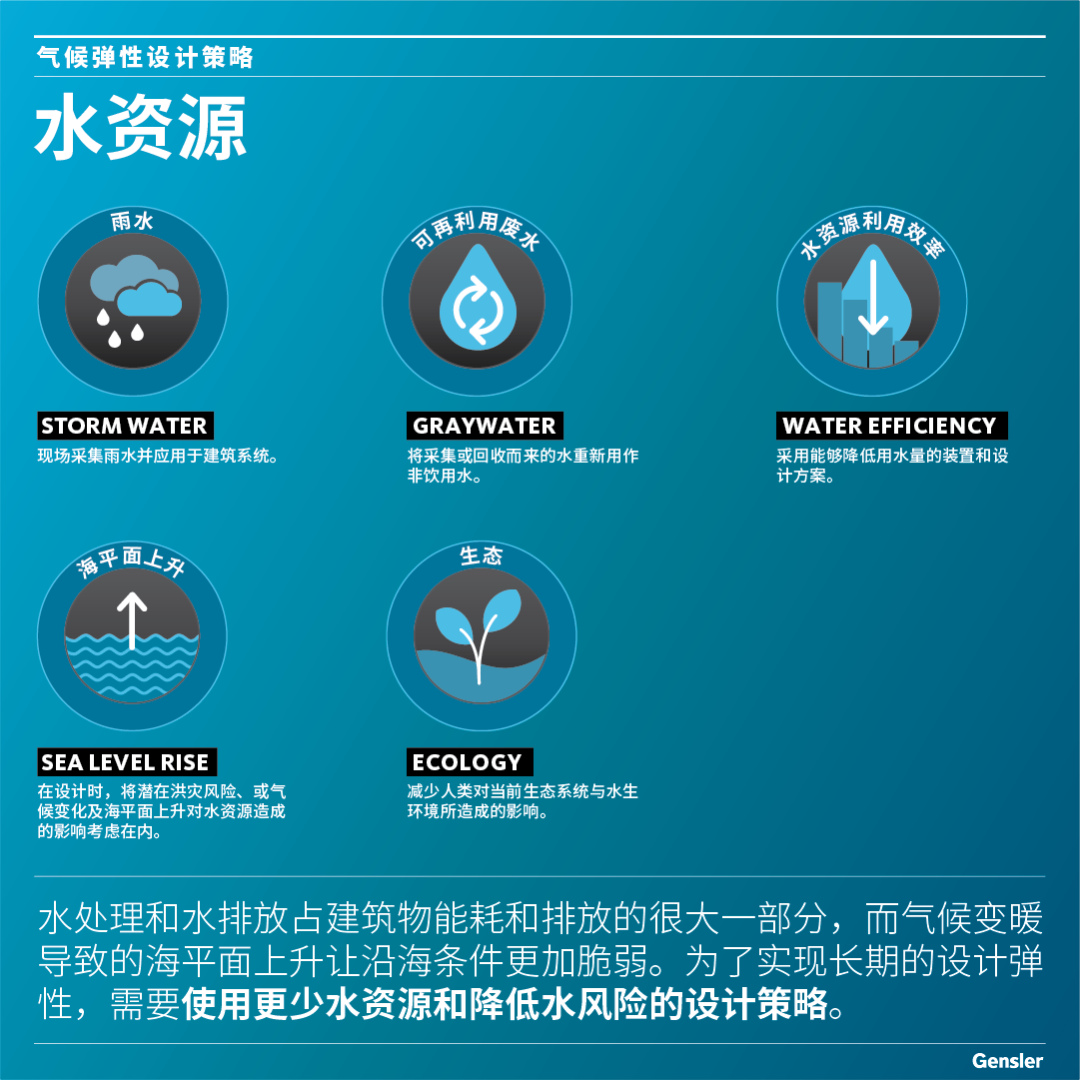 The treatment and pumping of water account for a large portion of buildings' energy and emissions, and climate-related sea level rise iscreating fragile coastal conditions. Design strategies that use less water and mitigate water risks are required for long-term resilience.


ENERGY
要减少建筑环境的碳排放,关键在于优化能源使用,尤其是与可再生能源策略的结合运用。
Optimizing energy use is crucial to reducing the carbon impact of the built environment, especially when paired with renewable strategies.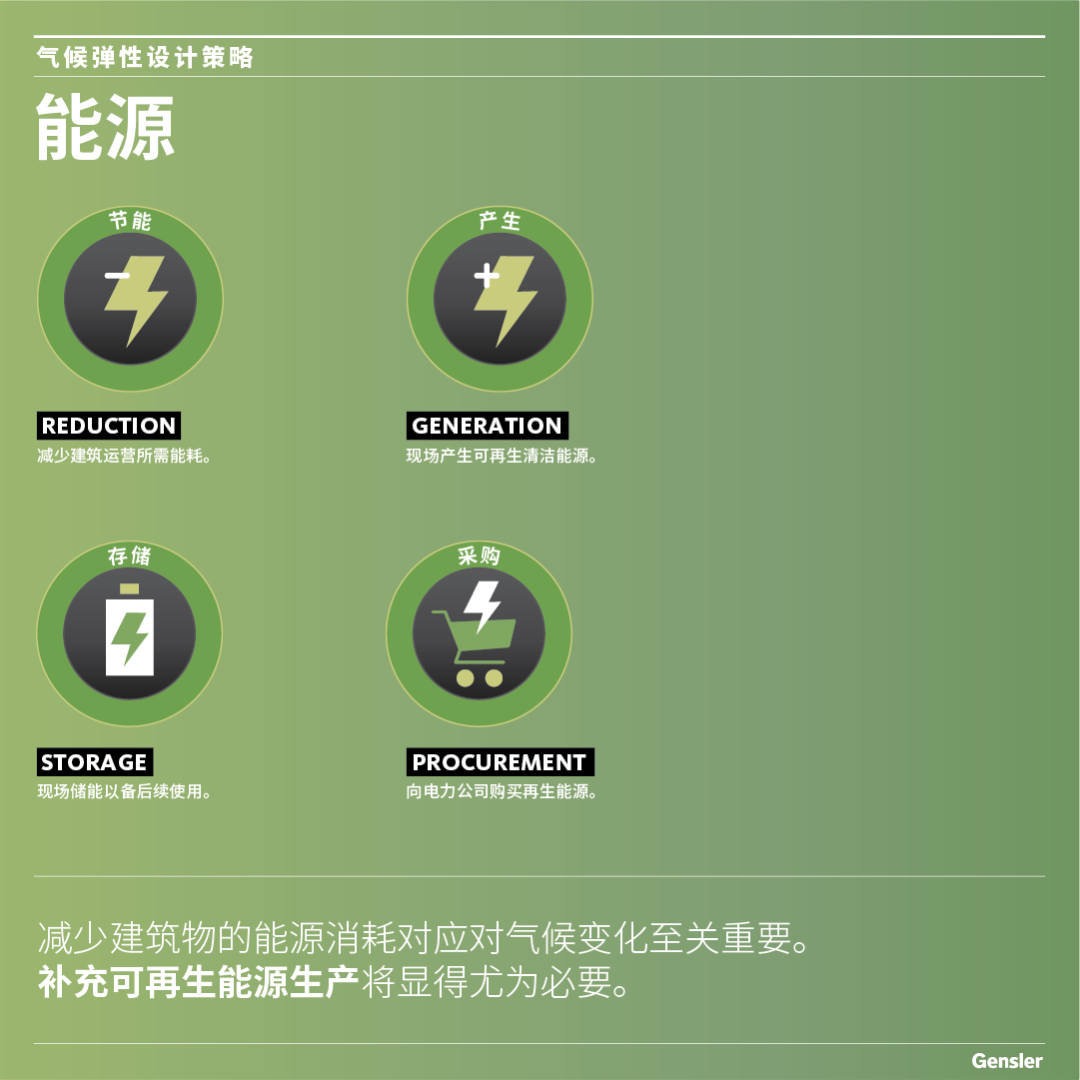 Minimizing energy use in buildings is essential to addressing climate change. Supplementing with renewable energy production will become increasingly necessary.

Gensler
城市气候变化挑战(
GC3
)彰显全球第一大设计公司的领导力
仅在2019年,Gensler就完成了全球7,000多个项目,总面积超过1亿平方米。这些项目中包括新建综合体、办公大楼、室内办公空间、学校、零售店、数据中心和酒店。与平均建筑能耗相比,我们在2019年的项目中减少1640万吨的碳排放,这相当于4.2家火力发电厂一整年的二氧化碳排放量,可为190万家庭持续供能一年。
Gensler早在2015年便在巴黎举行的联合国气候变化大会上,签署了《巴黎行动承诺》,承诺在我们的全球项目中大幅减少碳排放。2019年秋天,Gensler联席首席执行官DianeHoskins在联合国气候行动峰会上更是宣布了Gensler城市气候变化挑战(GC3):"计划在十年内,在我们所有的项目中实现零碳排放。作为全球最大的设计公司,我们有义务也有机会改善建筑环境的影响,并且应当积极推动整个行业做出改变。城市气候变化挑战(GC3)是我们向所有同行和客户发出的挑战倡议,呼吁大家共同为实现碳中和而努力。"
GENSLER CITIES CLIM
ATE CHALLENGE (GC3) DEMOSTRATES
LEADERSHIP IN BUILDING TOWARDS A GREEN URBAN FUTURE
Gensler is raising the bar again by announcing the Gensler Cities Climate Challenge (GC3), a public commitment to achieve net-zero greenhouse gas emissions of all design projects by 2030. Over the course of 10 years, by converting the portfolio of buildings to net-zero emissions would offset hundreds of millions of metric tons of CO2 as the savings compound each year. This is a challenge to all architects and designers around the world, and to the entire industry.
Being the number one architectural design firm in the world, in 2019 alone, Gensler professionals worked on more than 7,000 projects representing over 1.5 billion square feet of space. These projects ranged from new commercial office buildings and workplace interiors to schools, retail stores, data centers, and hotels.
The work of Gensler in 2019 is set to avoid 16.4 million metric tons of CO2from being emitted into the atmosphere compared to average building energy usage—the equivalent of taking 4.2 coal-fired power plants offline for an entire year, or the power needed for 1.9 million homes for a year. In the years ahead, Gensler will continue to reduce the carbon impact of the portfolio until achieving carbon neutrality.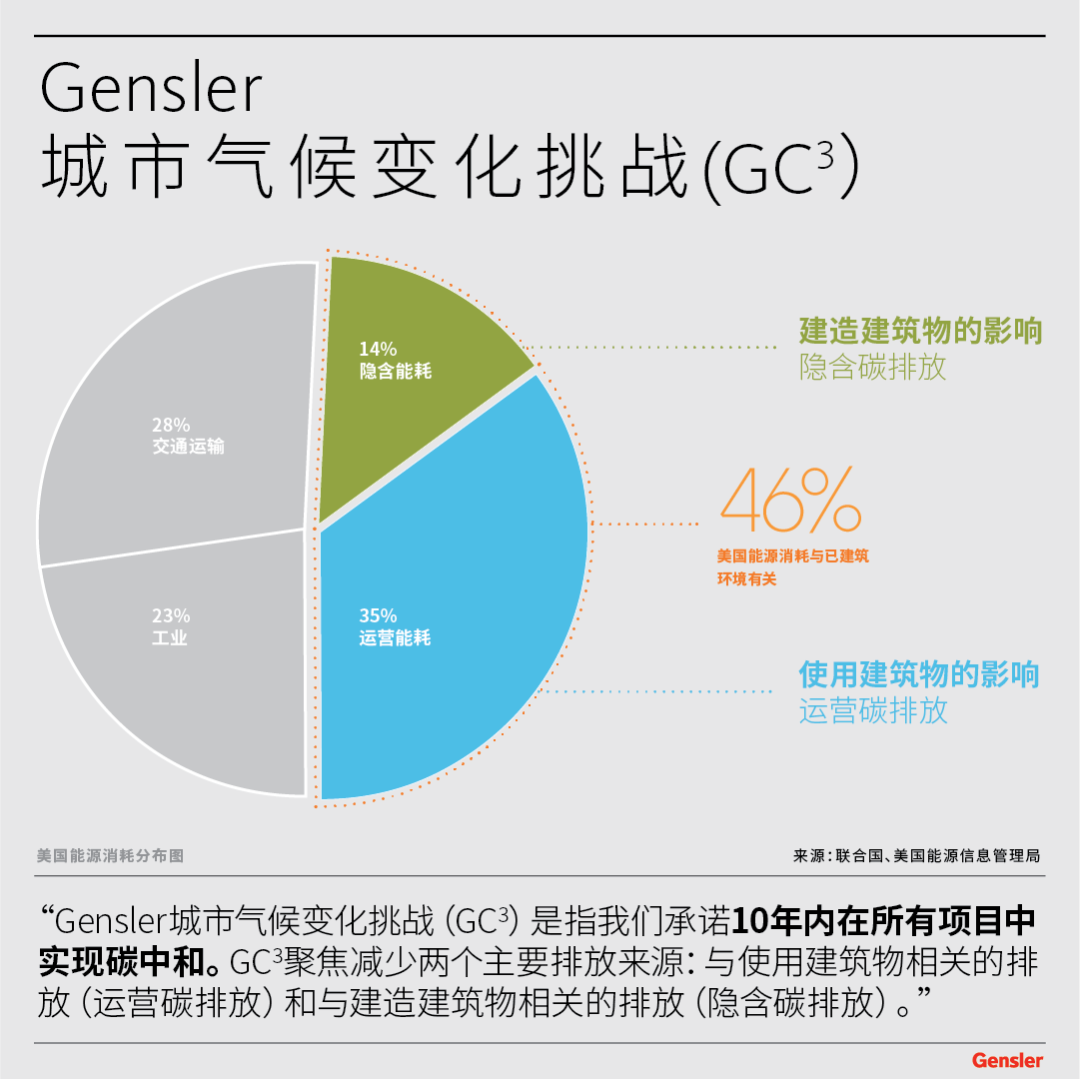 Gensler与中国的业主携手,应用弹性设计策略,打造了诸多绿色的地标项目,在行业中发挥着引领作用。Gensler大中华区联席执行总裁李晓梅女士和PeterWeingarten先生在2019美国建筑学会(AIA)大中华区域大会的主旨演讲上重申了Gensler的城市气候变化挑战(GC3)以及我们对中国绿色建筑事业的郑重承诺:"通过保护地球生态环境的弹性设计解决方案,以提升人类体验为核心,通过设计的力量塑造绿色的城市未来。"
SHAPING A GREEN URBAN FUTURE THROUGH THE POWER OF DESIGN
Gensler will continue to work with developers in the Greater China region to develop design strategies for green buildings in the region and to play a leadership role in the industry. At the keynote at the 2019 American Institute of Architects (AIA) conference, Xiaomei Lee and Peter Weingarten, Co-CEOs of Gensler Greater China, said "We are proud to reaffirm the Gensler's GC3 challenge and to reaffirm our commitment to green architecture in the Greater China region – to shape a green urban future through the power of design."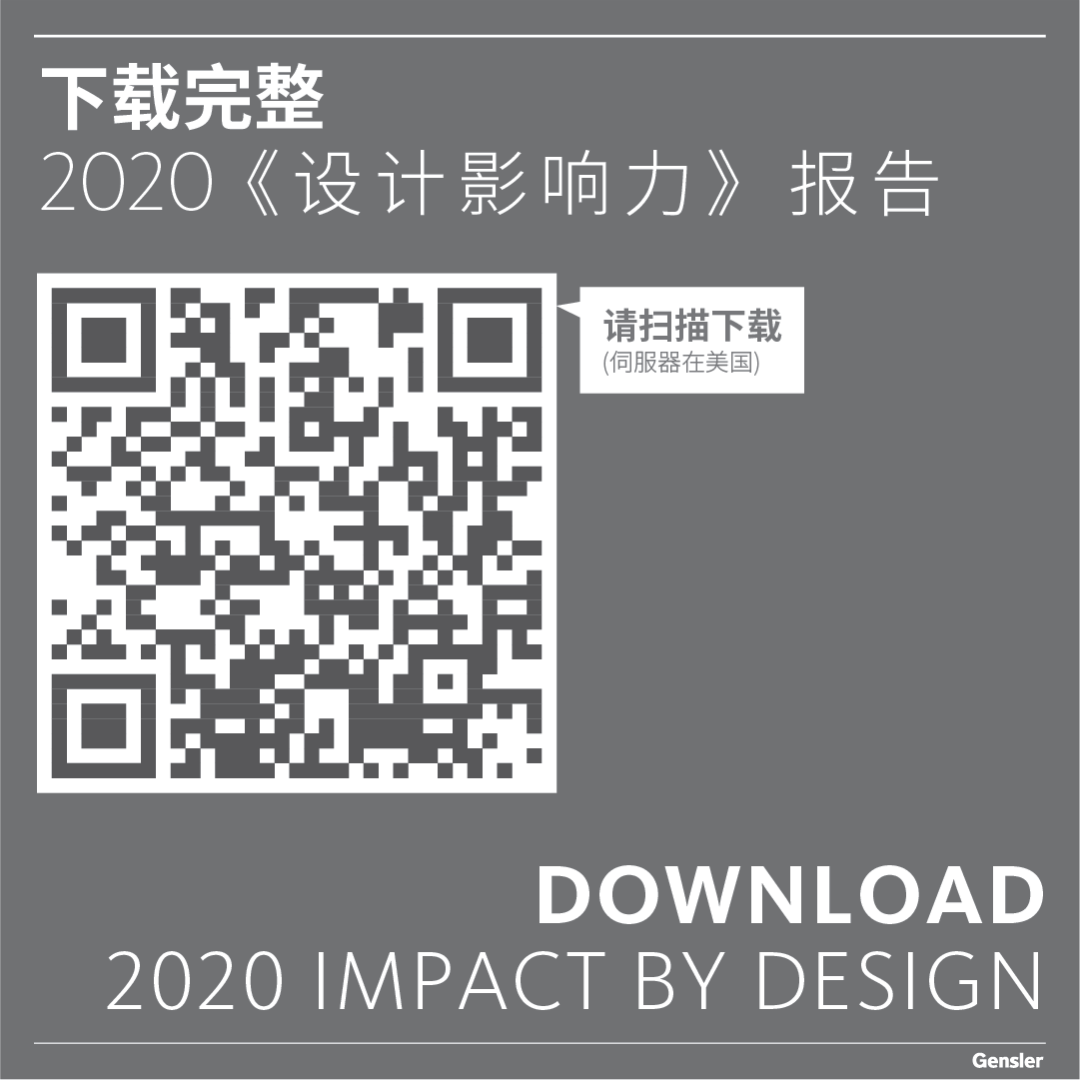 -End-